Social Events RIPE 60
At the end of each day we've organised social events where attendees mix in informal settings. You'll find invites in your meeting pack, but check this site for any late changes to times or arrangements. Tickets for the RIPE Dinner cost extra and if you didn't reserve when you registered for the meeting, can be purchased at the Registration Desk (subject to availability).
---
Welcome Reception
Where: Moravia rooms I-III, Prague Marriott Hotel
When: Monday, 3 May, 18:00 – 20:00
Sponsored by: Netnod
An Evening at Sacre Coeur
Where: Sacre Coeur, Smichov, Holeckova 31
When: Tuesday, 4 May, 19:00 – 23:00
Sponsored by: NIX
Wednesday Night is Party Night
Where: Mazanej Kralicek, Hybernska 32
When: Wednesday 5 May, 21:00 - 01:00
Sponsored by: Interxion
RIPE 60 Dinner
Where: Slovansky dum, Na Prikope 22
When: Thursday 6 May, 19:30 - 01:00
Sponsored by: CZ.NIC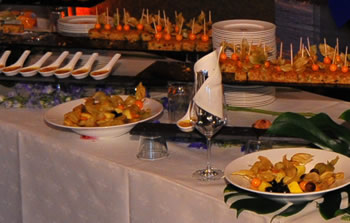 Notice
: Use of undefined constant day - assumed 'day' in
/var/www/html/ripe-60/content/social-events.html
on line
67
Wednesday Party

The Wednesday social event takes place in Mazanej Kralicek, a bar that borrows its name and theme from the diner in Pulp Fiction.
It's just a short walk from the meeting venue. Drinks and snacks will be served.
Where: Mazanej Kralicek, Hybernska 32
When: Wednesday 5 May, 21:00 - 01:00
Sponsored by: Interxion