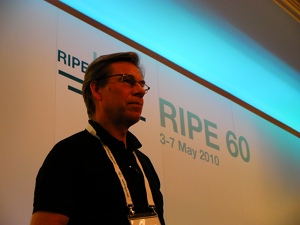 ---
Day 2 attendee count: 390 checked-in so far!
---
Other Reports
Announcements

For up to date meeting announcements and technical information, please see Network Information.

RIPE NCC Services Centre

Visit the Services Centre in the Karlsteijn Room, open during meeting hours from 09:00.
RIPE NCC NetSense Demo

Stop by the NetSense Demo stand on Thursday from 14:00 - 18:00 in the lobby. Franz Schwarzinger can show you how to use NetSense, RIS, TTM, DNSMON and Hostcount.

Feedback

If you have questions or comments about the meeting, please go the Registration
Desk or or email us
Day Two: Highlights From Tuesday
Tuesday's first plenary session featured updates from each of the other four Regional Internet Registries (RIRs), the Number Resource Organization (NRO) and the Address Supporting Organization (ASO) Address Council (AC), as well as a presentation of joint allocation and assignment statistics from the five RIRs (PDF).
In the second plenary session of the day, Benno Overeinder presented the preliminary results of NLNetlabs Secure Routing Survey (PDF) and asked for feedback. Leslie Daigle's presentation on ISOC's IPv6 Deployment Day (PDF) was well received and prompted some discussion. Per Blixt from the European Commission presented the preliminary finding of the Commission's IPv6 study and its Action Plan for Deployment of IPv6 in Europe (PDF). There was lots of interest in the findings and he asked that people provide him with their feedback on the study. You can find the information on the study at: http://ec.europa.eu/information_society/policy/ipv6/index_en.htm
After lunch, George Michaelson gave an entertaining presentation on the traffic seen to and from 1.0.0.0/8, which highlighted some of the problems being faced as the final blocks of IPv4 address space are allocated (PDF). Amund Kvalbein presented the results of a six-year study on BGP churn (PDF). Ben Stasiewicz then spoke about his experiences with Path MTU Discovery in IPv6 at the University of Waikato (PDF) and invited attendees to take part in the PMTUD test at: http://www.staz.net.nz/pmtud.php

IPv6 Working Group Update
The IPv6 Working Group met during the final session of the day, with a packed agenda that included Marco Hogewoning's overview of Customer Premises Equipment (CPEs) (PDF), Emile Aben's analysis of IPv6 at Web Clients and Caching Resolvers (PDF), Jan Zorz's discussion of Mobile Broadband and IPv6 in Slovenia (PDF) and a round-up of global IPv6 policies from Filiz Yilmaz (PDF). The session concluded with a fruitful, open discussion of the way forward for the IPv6 Working Group, and how best to encourage the accelerating adoption of IPv6.
Wednesday's Social Event:
The Wednesday social event takes place in Mazanej Kralicek, a bar that borrows its name and theme from the diner in Pulp Fiction. It's just a short walk from the meeting venue. Drinks and snacks will be served.