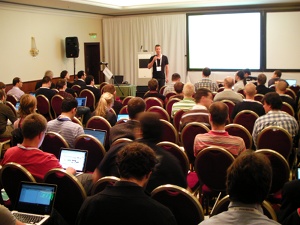 ---
Day 1 attendee count: 307 checked-in so far!
---
Other Reports
Announcements

For up to date meeting announcements and technical information, please see Network Information.

RIPE NCC Services Centre

Visit the Services Centre in the Karlsteijn Room, open during meeting hours from 09:00.

RIPE Labs Demo

Mirjam Kühne, RIPE Labs representative, answers your questions about RIPE Labs. Check out the demo stand in the lobby on Tuesday 09:00 - 16:00.
RIPE NCC NetSense Demo

Stop by the NetSense Demo stand on Thursday from 14:00 - 18:00 in the lobby. Franz Schwarzinger can show you how to use NetSense, RIS, TTM, DNSMON and Hostcount.

Feedback

If you have questions or comments about the meeting, please go the Registration
Desk or or email us
Monday at RIPE 60
Rob Blokzijl, RIPE Chair, opened the meeting on Monday afternoon with the message that RIPE 60 looks set to be one of the biggest RIPE Meetings so far. Rob also infomed the attendees that a draft Community Statement about IPv6 will be circulated on the RIPE mailing list and the Cooperation Working Group mailing list. This statement will be discussed in the Cooperation Working Group on Wednesday at 14:00, so come along if you've got something to say.
The meeting host, cz.nic, welcomed the attendees to Prague, and then the first plenary session of the week began. The theme of the session was DNS, with an update on Root DNSSEC Signing by Matt Larson and Duane Wessels. There were also presentations on Trusted Community Representatives Proposed Approach to Root Key Management by Rick Lamb and Applicability of add-paths Scheme by Robert Raszuk.
The final plenary session of the day featured presentations on BGP in 2009 by Geoff Huston, which prompted lively discussion, Using Route Servers by Elisa Jasinska and The RPKI & Origin Validation by Randy Bush. Ondrej Filip presented DNSSEC in CZ and announced that .cz has the most DNSSEC secured domains in the world. In addition, Suzanne Woolf talked about DS-Lite and asked for volunteers to test the system.
Task Force Update
The RIPE Certification Task Force met on Monday morning to discuss the RIPE NCC resource certification policy proposal currently in development. The meeting resulted in a new draft of the proposal, which will be presented to the community for discussion during the Address Policy Working Group later in the week.
Monday's Welcome Reception
The first day of the meeting was rounded off with the Welcome Reception, sponsored by Netnod. Attendees gathered for drinks and snacks in the meeting venue to discuss the day's events.

The Tuesday social event takes place in the atmospheric Sacre Coeur.
nix.cz sponsors Tuesday night's social event at the atmospheric Sacre Coeur. Come along for an evening of music, entertainment, food and drinks.
Buses depart from the meeting venue at: 19:00, 19:20 and 19:40
Buses return to the meeting venue from 21:30 to 23:30